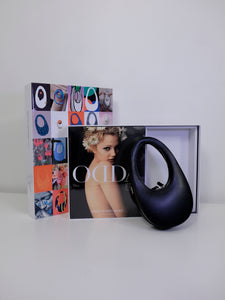 ODDA MAGAZINE
Boxes for Charity: ODDA x Coperni
Regular price
$730.00
$0.00
Unit price
per
Tax included.
Shipping
calculated at checkout.
ODDA magazine and the founders of Coperni, designers Arnaud Vaillant and Sébastien Meyer, have collaborated on a charity box with ODDA 19 Limited Edition issue. The cardboard lined box was designed by Coperni and features a medley of images of the brand's already iconic Swipe handbag.

Inside the box resides an actual Coperni Swipe bag and one of the limited-edition versions of ODDA 19 that features a cover of a 90s image of actress Drew Barrymore shot by photographer Mark Seliger. This singular ODDA x Copernibox was created to express the ideas of plurality, future, and diversity, as well as the concept of appreciating the beauty found in the simple things in life. The elegant simplicity of the swipe function on Apple products, which sparked the name and the design concept of the Coperni bag. The uncomplicated beauty of the common daisy in Barrymore's hair, which effortlessly elevates the image. The straightforward pleasure of flipping the pages of a magazine and becoming engrossed in a great article or striking images.

Priced at 600 euros/730usd the proceeds of the ODDA x Coperni box will be donated to the Bklynboihood nonprofit charity whose mission is "to create spaces where black, brown queer and trans bois* and our communities can cultivate stories, dreams, and creative work."
You can also purchase the box using our different channels such as ODDA's Instagram Shopping, Facebook Shop and Snapchat Shop.

This box marks just the latest in a long line of charitable projects that ODDA Magazine has launched over 2020, including #STAYHOME or #LETSDONATE, that underline the publication's commitment to helping those in need whenever possible.

*For circumstances out our control (Brexit and Covid-19), we experiment delay in our shipments.
---
Share this Product
---