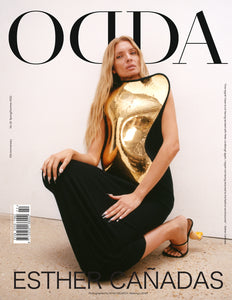 ODDA MAGAZINE
ODDA 22 Esther Cañadas cover
Regular price
$28.99
$0.00
Unit price
per
Tax included.
Shipping
calculated at checkout.
When I look back, I can't remember all what happened in the last 10 years!! YES, we are turning 10.
Back in 2012, I was a kid and a complete outsider of the fashion industry. I remember not even knowing what a resort collection was… Sometimes I forget now too, I'm joking haha. I started in this industry with high expectations of discovering, educating myself, meeting my "chosen" family, growing as a person, and seeing what life was having ready for me.
The beginning of the process was, I'm not going to lie, complicated. Getting to find your space in fashion is far from easy, but you will always, ALWAYS find people who want to listen to you and give you a chance. I still remember when I went to Milan for the very first time with an ODDA mockup (called ODDA 0) for some meetings. The first to say yes to a meeting was Ezio [Donnarumma], part of Versace for a long time, who took time out of his busy agenda that day to see me and listen to me. After that meeting, I did my very first special with Versace for the cover of ODDA 1. I remember receiving in my house 10 Spring/Summer 2012 runway collection looks and accessories from him. A collection I won't forget with the plexiglass heels, the viscose dresses with Medusa prints in pastel tones. Thank you Ezio, I will always be grateful for you.
I remember my first Prada show, collection Spring/Summer 2012, especially the men's wear show. Alessio Vanetti, who was still in Prada and he was the first to open the door to me. Thank you Alessio.
The show was held in Via Fogazzaro, where Prada used to have their HQ years ago. The set up was endless grass, small blue cubes as seats and a song… "Summer Time, Summer Time…" mixed with classical music.
Since the early years of ODDA, my goal has been showing a more real side of fashion and what Fashion Weeks are for me; KEY moments to feel, to understand and then create your storyline within the pages of your magazine.
Every time I get invited to a show I'm very excited, and this has not changed in 10 years. When you start the Fashion "months," you never know what you are going to discover, how the invitations will be, what songs will be created by Frédéric Sanchez or Michel Gaubert for the runway or who you are going to meet next to your seat or at a dinner. I understand this may sound "superficial" but I think otherwise, it is the essence of what's coming after.
The fashion industry is composed of many different souls, creatives, and points of view. I always wanted to show WHO and WHAT as well as making a more human and organic approach for our readers.
Creating conversations between creatives, activists, artists and entrepreneurs is 50 percent of ODDA's DNA. Names such as Vivienne Westwood, or Simon Porte Jacquemus, Gregory Crewdson, Nicolas Party, Cyrill Gutsch or Adrian Joffe have shaped some of our more than 400 interviews in the first issues of the magazine.
2015 was the year for a new chapter starting to work with celebrities and talents. That year we did the cover with
Paris Hilton
in collaboration with Moschino. I remember I was in Milan attending the second Jeremy Scott's collection for the house, inspired by Barbie, and when I saw "look one," I saw
Paris Hilton
in my head. I have always been very attracted to talents that are somehow a bit out of the focus or generate in me a real passion and strong emotions and feelings when I see them. Pop culture profiles to very niche and insider Hollywood icons have always attracted me, as well as many of them, have been part of my childhood and education.
After Paris [Hilton], I met my friend
Pamela Anderson
, we got to shoot a cover to
Mrs. Dame Joan Collins
DBE in 2016, photographed
Kermit
and
Miss Piggy
at Disney Studios,
Kim Kardashian
at Houdini's Estate in LA, Sharon Stone, and one of the sweetest and kindest people I ever met,
Mrs. Sigourney Weaver
, back in 2018.
At the same time we started to focus on the future, giving space and a word to new designers, dedicating pages to the beginning of their brands and supporting their vision. Getting to know the sons and daughters of icons, what the new generations look like, and to feel the big changes the industry was already experiencing with Influencers and TikTokers.
For this issue, ODDA 22 10th Anniversary Vol. 1 we are focused on the first years of the magazine, exploring our identity from the core, looking back but overall thinking about tomorrow, the future and what will be like the next 10 years for us.
The selection of our covers is always very important to me. I know publicists and model agents sometimes may hate me, but I need to feel people will understand who that person in the cover is and that I'm sure and convinced about that decision.
ODDA 22 got 7 covers, to be revealed daily staffing February 22nd.
The new issue explores Versace as a brand in a constant evolution, featuring names from
Violet Chachki
to
Rainey Qualley
or
Jacob Rott
. Origins and evolution with Prada and
Chris "King" Combs
, son of Puff Daddy where we come back to the simplicity and aesthetics of the 90s, as well as exploring the multidisciplinary visions of the late genius
Virgil Abloh
ahead of Louis Vuitton featuring two different sides of the city of Los Angeles with skater Robert Neal and singer
Duckwrth
.
Artist,
Rona Pondick
, opens her studio to show us her "Work In Progress" pieces,
Clara Cornet
expands our understanding of Instagram, Tabitha Jackson explains what the Sundance Film Festival stands for, and
Kurt
and  tell what was like working with Britney Spears and creating the aesthetic of iconic roles in the cinema industry such as
Jared Leto
as RAYON in the acclaimed film
"Dallas Buyers Club"
.
There is much more to discover such as
Hugo Comte
and
Liana Satenstei
n in a feature dedicated to some key names of the fashion industry who are leaving a mark now and will make a change.
*For circumstances out our control (Brexit and Covid-19), we experiment delay in our shipments.
---
Share this Product
---