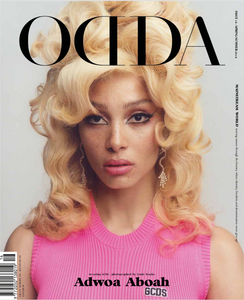 ODDA MAGAZINE
ODDA issue 16 Spring/Summer 2019
Regular price
$22.00
Sale price
$28.99
Unit price
per
Tax included.
Shipping
calculated at checkout.
ODDA 16 takes you away in a world of sensations where we interrogate the meaning of mainstream. You have the chance to hear different stories of people who realized their dreams, or who are pursuing them now as we speak. Young talents who have a massive following and influence online, but in truth are still figuring out who they are and what they want to do. Everyone has their own view and take on what is inspiring, what makes it interesting is how this stimulus translates into creativity and self-expression.
Therefore, we have chosen those people who provide a fresh approach on the industry, those who step forward, inspire and make dreams happen: Carmen Electra with her timeless beauty, James Goldstein and his iconic Goldstein residence, tastemakers such as Noah Cyrus and Saweetie, artistic talents Leo Rydell Jost and Byun Dae-Yong Do, and contemporary designers Tory Burch and Marco Panconesi just to name a few…
We also included a special feature named Sons of LA, in which past and future blends in the story of 'celebrity-kids' such as Dylan Jagger Lee, Kailand Morris and Miles Richie. In collaboration with videographer Paul Herrmann, a series of intimate points of views has been created of the young talents by asking them: 'What's mainstream for you?' which can be found on ODDA's socials.
---
Share this Product
---